Blackmagic Audio Monitor 12G
SKU : BlackmagicAudioMonitor12G
Blackmagic Audio Monitor 12G provides the finest quality audio monitoring in an incredibly small one rack unit size! Featuring a dual subwoofer design with extra wide range speakers for amazing audio, all backed by a super powerful class D amplifiers. This precision audio and video monitoring solution includes an advanced 12G‑SDI input, as well as balanced XLR analog audio, balanced AES/EBU digital audio and consumer level HiFi audio inputs. The elegant front panel has bright multi colored audio level meters and a built in LCD for monitoring video sources, plus you get an HDMI 2.0 output for monitoring Ultra HD on big screen televisions!

Monitor Anywhere
Great audio wherever you work
It's never been easier to put the highest quality audio and video monitoring everywhere you need it. Install Blackmagic Audio Monitor 12G in broadcast racks audio on decks, video servers and live transmissions. At the push of a button you can switch between stereo pairs of the SDI input, great for monitoring alternative language tracks. The compact size is perfect for portable flyaway kits and broadcast trucks where space is tight, or in edit and audio post production facilities where precise audio quality is essential!
Small Size, Big Sound!
Crystal clear audio
with a dual subwoofer design
The Blackmagic Audio Monitor 12G has been designed using the latest advanced audio analysis technology to create a wide and smooth frequency response curve with crisp highs and powerful deep bass. You get great sounding music, extremely clear voice tracks and all the detail of effects tracks! Blackmagic Audio Monitor 12G is powerful and loud enough to hear your audio in noisy environments, such as broadcast equipment rooms that have a lot of cooling fan noise.

Precision Metering
Know your audio levels at all times
The two big bright audio level meters on the front panel feature multi colored RGB LEDs under each segment. You can select between VU or PPM or Loudness scales with a choice of EBU or BBC meters. With lots of meter segments you can monitor a very wide dynamic range, from -45 to +3 decibels, -12 to +12, or 0 to 7, depending on the scale you choose. In addition you can meter Loudness using standard Loudness, K‑weighted, relative to Full Scale (LKFS) to normalize of levels for delivery to broadcast TV and video. The bright audio level meters are always clear enough to read, no matter if you are working in bright or dark environments!

Machined Metal Design
Milled from solid aluminum
for sound free of vibrations!
The machined metal design is attractive as well as extremely strong, which means you get a robust chassis that's vital for better quality sound without rattles and vibrations. The elegant front panel features audio level meters, LCD video monitor and a reliable contact‑less volume control, so you never get deterioration and crackling in the audio when adjusted. To select audio pairs, left and right solo, mute and input, there is a built in illuminated keypad and for private monitoring there is a built in headphone socket.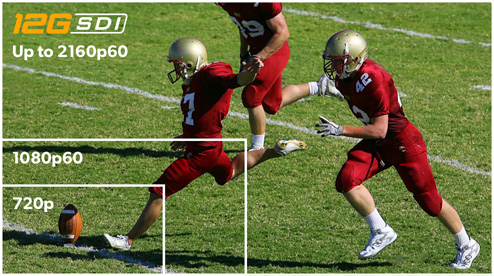 Advanced 12G‑SDI
Blackmagic Audio Monitor 12G supports all common SD, HD and Ultra HD video resolutions. The 12G‑SDI input and HDMI 2.0 output also support high resolution Ultra HD monitoring. The advanced technology of 12G‑SDI is 48 times faster than standard HD‑SDI so you can work at resolutions and frame rates as high as 2160p60, all over a single cable! You can connect to Ultra HD TVs and projectors with HDMI 4K and you can monitor any of the 16 audio channels on the 12G‑SDI input.

Both Audio and Video Connections
Blackmagic Audio Monitor 12G has all the audio and video connections you need to make it the perfect monitoring solution in any environment. With balanced analog XLR audio, balanced AES/EBU audio and consumer level HiFi audio inputs it's easy to connect any audio source. You can select between inputs quickly using the input button situated on the front panel. The 12G‑SDI video input and HDMI 2.0 video output both support embedded audio and let you connect to the latest high resolution video technology.
Use a Big Screen TV for Monitoring!
When you're working with SDI video input you can use the Blackmagic Audio Monitor 12G to convert from SDI to HDMI for monitoring with big screen televisions or video projectors. Blackmagic Audio Monitor 12G automatically switches between SD, HD and Ultra HD formats. You can monitor in high resolution Ultra HD using the HDMI output with only a single HDMI cable!
Connections
SDI Video Inputs
1
SDI Video Outputs
1 loop out.
SDI Rates
270Mb, 1.5G, 3G, 6G, 12G.
HDMI 2.0 Video Outputs
1
Multi Rate Support
SDI and HDMI are switchable between standard definition, high definition and ultra high definition.
SDI Video Loop
1 x reclocked 10‑bit SD/HD/3G‑SDI, 6G‑SDI and 12G‑SDI.
Analog Audio Inputs
2 x XLR. 2 x RCA HiFi.
Analog Audio Outputs
1 x 6.5mm headphone socket.
Digital Audio Inputs
1 x XLR.
Built in Speaker
Stereo with 2‑way crossover and independent stereo subwoofers.
AES/EBU Audio Inputs
2 channels balanced 110Ω AES/EBU via XLR.
SDI Audio Inputs
16 channels embedded in SD, HD and UltraHD 4K.
SDI Audio Outputs
16 channels embedded audio loop out.
HDMI Audio Outputs
8 Channels embedded in SD, HD and 4K.
Ethernet
1Gb/sec for configuration and firmware updates.
Computer Interface
USB‑C for configuration and firmware updates.
Metering
2 x 27 RGB segment LED VU, PPM or Loudness meters.
Modes
Push button interface allows for input selection, channel selection, independent left and right audio, mute and volume control with scroll wheel.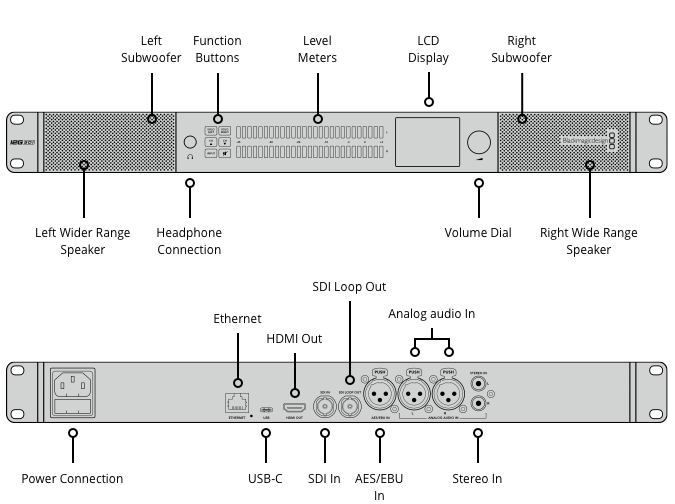 Standards
SD Video Standards
525i59.94 NTSC, 625i50 PAL
HD Video Standards
720p50, 720p59.94, 720p60, 1080p23.98, 1080p24, 1080p25, 1080p29.97, 1080p30, 1080p50, 1080p59.94, 1080p60, 1080PsF23.98, 1080PsF24, 1080PsF25, 1080PsF29.97, 1080PsF30, 1080i50, 1080i59.94, 1080i60
2K Video Standards
2K DCI 23.98p, 2K DCI 24p, 2K DCI 25p, 2K 23.98PsF, 2K 24PsF, 2K 25PsF
Ultra HD Video Standards
2160p23.98, 2160p24, 2160p25, 2160p29.97, 2160p30, 2160p50, 2160p59.94, 2160p60
4K Video Standards
4KDCIp23.98, 4KDCIp24, 4KDCIp25, 4KDCIp29.97, 4KDCIp30, 4KDCIp50, 4KDCIp59.94, 4KDCIp60
SDI Compliance
SMPTE 259M, SMPTE 292M, SMPTE 296M, SMPTE 372M, SMPTE 424M, SMPTE 425M Level A and B, SMPTE 2081‑1, SMPTE 2081‑10, SMPTE 2082‑1 and SMPTE 2082‑10
SDI Auto Switching
Automatically selects between SD, HD, 3G‑SDI Level A and B, 6G‑SDI and 12G‑SDI.
Audio Sampling
96 KHz and 24 bit.
Video Sampling
4:2:2 and 4:4:4
Audio Meter Ballistics
54 RGB segment LEDs allowing selection of metering with VU, PPM EBU, PPM BBC or Loudness. Includes replaceable level scale.
Control
Built-in Control Panel
2.2 inch display for viewing video input, video standard and selected audio input.
Software
Internal Software Upgrade
Via USB connection and Ethernet
Display
Display Element
2.2 inch diagonal color LCD.
Display Resolution
320 x 240.
Input Display
SDI video, format, audio type and audio channels.
Power Requirements
Power Supply
1 x Internal 100 - 240V AC.
Power Usage
55 Watts
Physical Specifications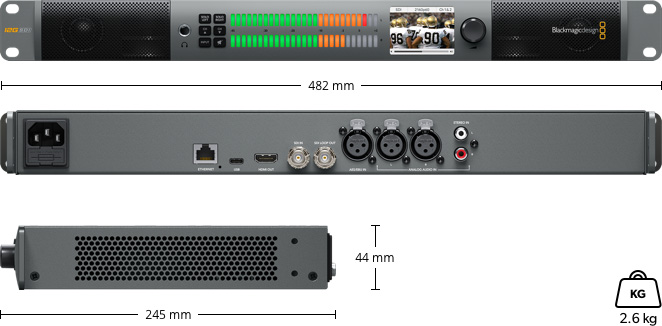 Environmental Specifications
Operating Temperature
0° to 40° C (32° to 104° F)
Storage Temperature
-20° to 45° C (-4° to 113° F)
Relative Humidity
0% to 90% non-condensing
What's Included
Blackmagic Audio Monitor 12G
PPM and Loudness Scale Stickers
SD card with software and manual
Warranty
12 Month Limited Manufacturer's Warranty.